How to Pick the Best Conference Room Chairs
The keys to designing a meeting room are comfort and functionality. After all, you might spend anywhere from one to four hours in your room for an important collaboration session or board meeting. That's why it's critical to choose the right conference chairs to make you, your team, and any clients feel comfortable in the space.
You want to do it right the first time to save time, money and frustration. The main things you need to consider are what type of chairs you want to use and how many of them you need. We'll cover both topics in this guide, looking at ergonomics and other factors to help you find the best conference room chair for your office.
The furniture you choose for your conference room matters. It affects how your meetings go, how focused people are, and the mood people are in when they come to a meeting. Why? Because poor ergonomics can directly affect employee productivity and fatigue.
Think about a time when you had to concentrate while sitting in an uncomfortable position or chair. It's not easy, and it can even put you in a bad mood. This is not something you want every time you call a meeting (especially if the client is attending).
Comfortable conference room chairs are essential to a pleasant and productive meeting environment. Here are some questions to ask yourself before you start shopping:
- Is this space for employees only, or will it host customers, suppliers, and other visitors?
- How many people will need to fit comfortably in this space?
- What will your conference room be used for and how long will meetings typically last? How long do you expect the longest meeting to be?
- Do you need to rearrange or move your meeting room furniture frequently?
- Would you like to add additional technology, storage or amenities (ie food and beverage stations) to the room?
Questions like these can help you determine the correct way to enter a conference room. Deciding how to design a meeting room can take time, so take notes and think about it.
How Many Conference Room Chairs Do You Need?
Before deciding how many conference room chairs you need, you need to choose the right conference table size. Here are some basic guidelines for conference table dimensions:
- 6 people: 6 x 3 feet to 8 x 4 feet
- 8 people: 8 x 4 feet to 10 x 4 feet
- 10 people: 10 x 4 feet to 14 x 4 feet
- 12 people: 14 x 4 feet to 16 x 4 feet
Generally speaking, if your meeting room uses one table, you will need 6-12 chairs. However, if you have the space, you can also provide some guest chairs on the wall. These extra chairs provide extra seating when there isn't enough room at the table.
Armless stacking chairs work well as backup chairs for those who don't have enough room to place overflow seating along the wall. You can even tuck away the stackable option in a nearby closet if desired.
What Type of Chair is Best?
The best office chairs for your conference room will vary depending on how you plan to use them and how long your meetings last. You might also want to place a captain's chair at the head of the table for your most senior employees.
Task Chair
Task chairs are one of the most common options for conference room chairs. They look similar to standard desk chairs and generally have fewer ergonomic adjustment points.
While many classic conference room chairs are height-adjustable only, we recommend choosing a chair with the following features:
- High back with breathable mesh backrest
- 3-5 point adjustment, including armrest adjustment
- Mid back with padded lumbar support
- Casters and swivel chair function
Everything from seat height adjustment to back support will help your workers stay comfortable and focused during meetings. For example, a high-back chair with back support will make the meeting better for all participants.
Ergonomic Chair
Ergonomic chairs are a common choice for long meetings, home office workspaces, and similar conference rooms. These versatile beauties are crafted with comfort and support in mind. In addition to being great for long meetings, they're also a good choice for board meetings.
Here are the basic features of an ergonomic conference room chair:
- High backrest and headrest options with breathable mesh support
- 5-7 point adjustment, including armrest adjustment
- Mid back with padded lumbar support
- High density cushion
- Casters and swivel chair function
Ergonomic chairs are an excellent way to support employees. As a bonus, the comfortable mesh office chair also makes a good impression on guests.
Mesh Desk Chairs
Mesh office chairs (which you might think of as a more traditional-looking conference chair) are not as adjustable as task chairs or ergonomic chairs, so are more suitable for conference rooms that typically don't host meetings for more than 2-3 hours.
Here are the key points to look for in mesh conference room chairs:
- Woven mesh base
- Height adjustment, tilt and armrests
- Casters and swivel chair function
- The lower backrest gives a cleaner look around the table
Making sure your chair has (at least) height adjustable and armrests will ensure that anyone can find a comfortable position. The nylon mesh material also helps to create more breathable chairs, which is beneficial for meeting rooms with larger windows for plenty of sunlight.
Other Factors to Consider
It may be tempting to buy the first conference room chair you find, but as with all office shopping, it's best to think about your options first. New products for your office can be expensive, so you'll want to find the best conference room chairs right the first time.
Here are some other things to consider before buying:
- Employee Happiness Matters: Comfortable seating and thoughtful office furniture show your employees you care.
- First Impressions Matter: If new employees, clients or other important people are visiting your conference room, you want comfortable chairs to make a good first impression.
- Hybrid Work Considerations: Will your conference room or desk also be used as a coworking space? How does this affect the furniture in the space?
Ready to Equip Your Conference Room?
No matter how many you need or which type you choose, choose your conference room chairs carefully. After all, your decisions could affect your most important meeting in the future! Your choice will also affect your comfort level if you plan to use the room with your group.
Start by deciding how many conference room chairs you need to purchase, then choose the style that best suits your conference room. If you want to buy meeting room chairs, welcome to
contact us
.
DINGYOU Office Furniture is a professional
custom conference tables and chairs manufacturer
. It mainly produces conference room tables and chairs, training desks and chairs, smart classroom splicing desks and chairs, which can be applied to schools, governments, enterprises, training institutions and other scenarios. Persist in participating in office and school industry exhibitions every year, focus on one product field, and gain more recognition and support from customers. We sincerely look forward to your consultation, we would like to be a member of you to solve your needs and achieve win-win cooperation!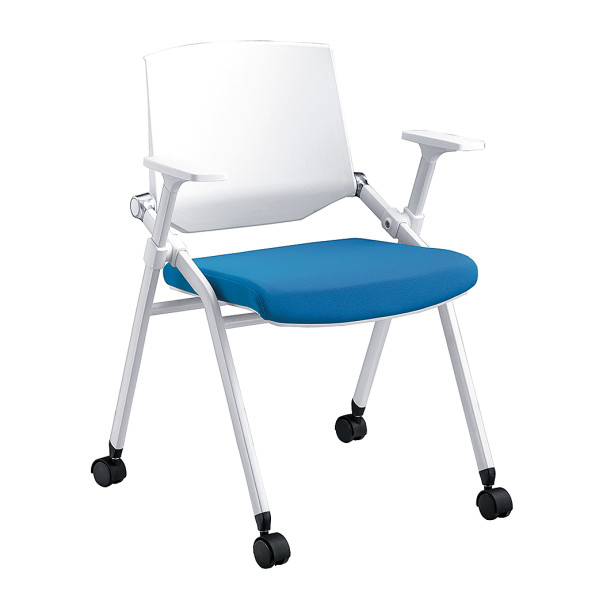 This folding chair with casters is not only easy to move, but also the folding function can save space.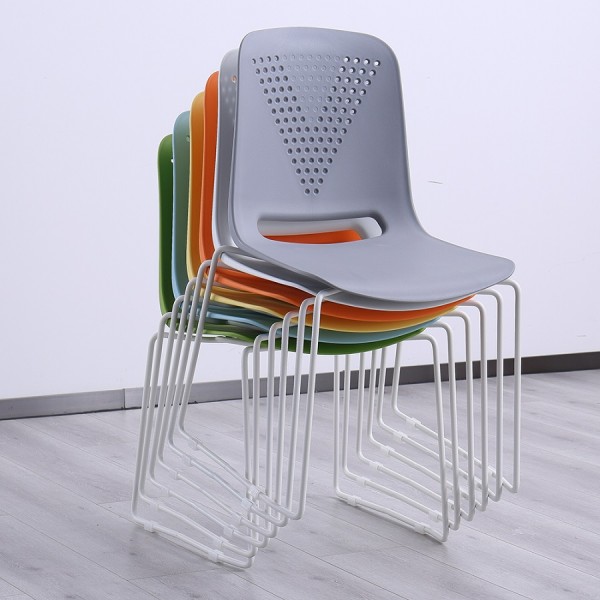 This stackable and easy-to-clean plastic chair is ideal for meeting rooms, lounges, waiting rooms, training rooms, and more.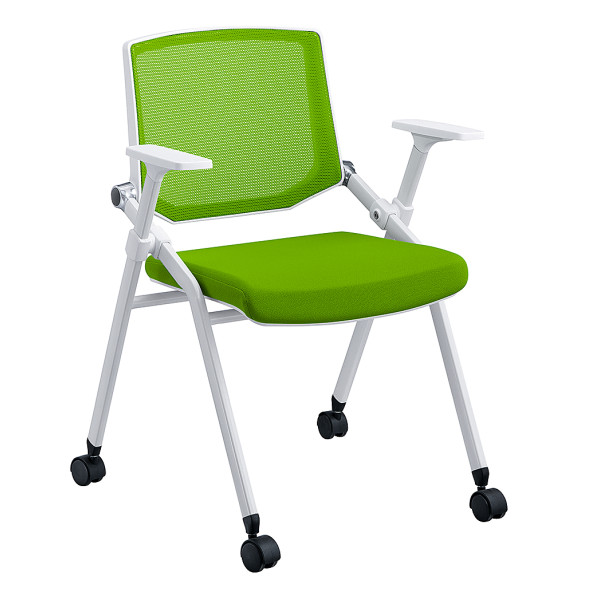 Bring your space to life with this folding training chair with a green mesh back.