Office Chair vs Conference Chair: What's the Difference?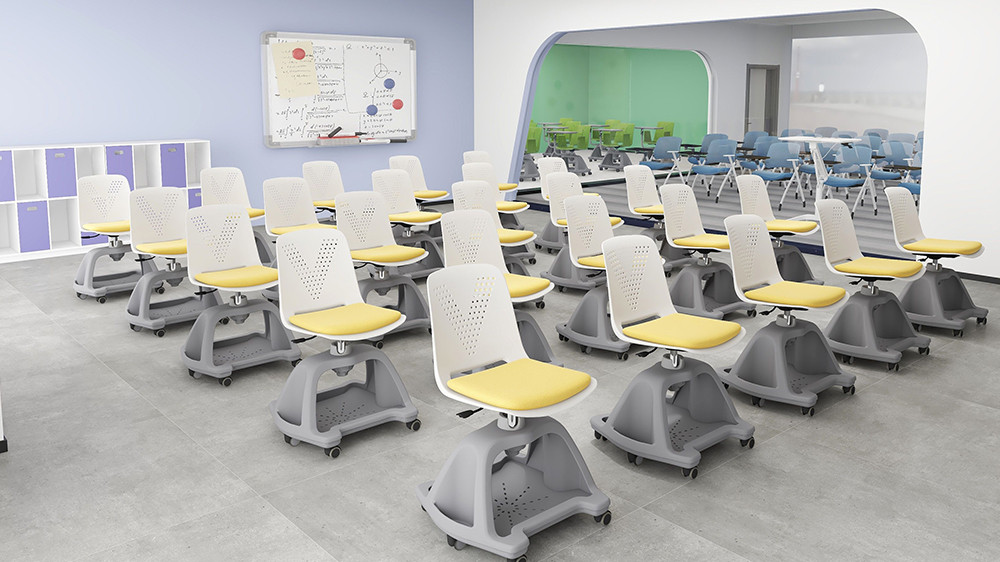 Do you need office chairs for your company's new hire department? Are you ready to upgrade the outdated chairs in the conference room?
No matter what you're looking for, it's important to understand the difference between an office chair and a conference room chair, and when you should use one or the other.
In this article, we will break down conference chairs and office chairs, what they are designed for, and how they compare in different fields.
Office task chairs vs conference chairs: how are they different?
Office task chairs are used in personal workspaces such as desks and cubicles. They are designed for everyday workplace use - 8 hours a day, 5 days a week.
Low-back office chairs are designed to be smaller for shorter periods of use and are available with or without armrests. The mid-back chair is larger, has armrests, and has a higher back for ergonomic support.
What is a conference chair?
As the name suggests, conference chairs are used in meeting rooms to set a unified tone for business meetings. These chairs are simple to use as they come with static arms and limited adjustment.
Unlike task chairs, conference chairs are not designed to support users eight hours a day. Instead, they are suitable for short-term use, such as weekly meetings or employee brainstorming sessions.
Office task chair vs conference chair: how do they compare?
1. Budget
Office task chair
The price of an office chair depends on several factors, including ergonomic features and customization options. The more functions it has, the more expensive the chair will be.
Office chairs are often made from standard chair materials such as fabric, mesh, and vinyl. Although some chairs have leather upholstery, this option is less popular and more expensive than other materials.
Conference chair
Conference chairs are not as ergonomic as office chairs, which we will discuss in the next section. They are made of high-end materials like leather, metal, or wood and cost more than standard chair materials.
2. Function
Office task chair
Office chairs offer a wide range of ergonomic features to support a variety of users with different body sizes and personal seating preferences.
Depending on the manufacturer or model, you can add tweaks and customization options to increase its functionality. Some of the most popular tweaks include:
Seat depth adjustment
Seat height adjustment
Adjustable lumbar support
Adjustable arm
Adjustable swivel and tilt options
Conference chair
As mentioned earlier, conference chairs offer fewer ergonomic adjustments than office task chairs. However, the lack of adjustment is entirely intentional.
In most conference rooms, chairs surround a larger table where people gather for meetings. If you see chairs adjusted differently, the table may look out of place or unprofessional.
Conference chairs are also designed for short-term use, which is why they only come with standard ergonomic features such as tilt-lock stops, seat height adjustment, and non-adjustable arms.
3. Style and customization options
Office task chair
With an office task chair, the customization options seem endless. They offer a variety of customizable features, including color, interior, and finish options.
Chairman of the meeting
Conference chairs make up for their lack of adjustability with aesthetic appeal. Although they offer fewer customization options than office chairs, they feature customizable leather upholstery and wood finishes.
4. Size options
Office task chair
Most office chairs have a low or medium back height. Generally, the higher the back of the chair, the more lumbar support it provides.
Conference chair
Conference chairs usually have higher backs than office chairs. These chairs can also be larger in size to support a variety of postures and provide comfort for extended use.
5. Type of use
Office task chair
The office task chair is suitable for everyday use. They offer ergonomic adjustments for all-day support and flexibility and accommodate users of different sizes and shapes.
Additionally, most work chairs are designed for prolonged mobile use, so users can type on a keyboard or text on a smartphone without compromising healthy movement.
Chairman of the meeting
Compared to adapting to various work positions throughout the day, conference chairs are designed to work around a conference table and remain in a stationary position.
Office task chairs vs conference chairs: which chair is right for you?
At the end of the day, the chair you choose will depend on how you plan to use it.
If you need a chair for eight hours a day, you should use an office chair. They offer a variety of customization options and ergonomic features to support a wide range of users on a daily basis.
On the other hand, conference chairs are designed for meeting rooms or short-term use. They are simple to use and have higher backs than office chairs, but they offer minimal adjustment and fixed armrests.
The above introduces the difference between office chairs and conference chairs. If you want to buy office chairs or conference room chairs, please
contact us
.
Dingyou Office Furniture
is a professional
custom office desks and chairs manufacturer
. It mainly produces training desks and chairs, smart classroom splicing desks and chairs, and can be used in schools, governments, enterprises, training institutions, and other scenarios. Every year, we insist on participating in office and school industry exhibitions, focusing on one product field and gaining more customer recognition and support. We sincerely look forward to your consultation, we are willing to be a member of your solution to your needs and achieve the win-win cooperation!