Different Types of Office Chairs and Their Ergonomics Explained
An
office chair
is something we all take for granted. They're always there, and we only notice them when they're broken. But in reality, they play an important role in our lives. Not only do they affect our productivity, but they also directly affect our health.
Today, there is an endless variety of office chairs to suit the various needs of different occupations and workplaces. In this article, we'll explore the most common types, and how they perform in the ergonomics department.
Ergonomic chair
The ergonomic chair is specifically designed to encourage a neutral posture and provide adequate support when you are working in the office for extended periods of time. While they're usually a little more expensive than other types of office chairs, you'll save more in the long run because many are specifically optimized to prevent conditions like cervical spondylosis, back pain, poor posture, and blood circulation.
William Stumpf invented the first ergonomic chair in 1976. Unlike other office chairs of the time, it was designed for comfort and support. It has features such as height adjustment and spinal support.
Best for: Preventing neck, back, and shoulder pain while sitting.
Drafting chair
Architects and artists often need to stand while they work. Just like sitting for long periods of time can have health consequences, standing for hours at a time can have negative health consequences.
That's where the drawing chair comes in. Paired with drafting desks and standing desks, the drafting chair allows people who work standing to sit and rest without interrupting their workflow. Its height makes it easy to transition from sitting to standing. You can expect it to support your back, upper and lower extremities, and body weight.
This type of office chair is light, easy to move, and available with or without a backrest. Its adjustable height also allows it to be lowered and used with a traditional desk. They almost always come with a foot loop and a place where you can place your feet.
Best for: Employees who take short breaks while standing at work.
Executive office chair
Of all the various types of office chairs, executive chairs are usually the most luxurious. As the name suggests, executive office chairs are often used in high-rises. Its exterior design looks imposing, it has a high back with ample cushioning for the backrest, seat, and headrest, and is usually made of premium materials such as premium wood and genuine leather.
These days, the lines between ergonomic office chairs and other types of office chairs are often blurred. Speaking of executive chairs, aside from the upholstered seat, the thickly padded armrests, and the PU or genuine leather that adorns the chair. Some even come with additional features like a tilt function or massage head.
Best for: A corporate executive looking for a large, comfortable office chair that matches his/her position. Also great for those who like plush cushions.
Mesh office chair
Mesh office chairs are the epitome of breathability, and they're a great option for those who sweat a lot at work. The backrest is lined with this mesh fabric, which is paired with the upholstered seat for comfort. The premium mesh office chair is also designed with ergonomics in mind, with waterfall edges to promote circulation and lumbar support to minimize low back pain.
Best for: People who sweat easily or work in hot climates.
Stacking chair
In terms of portability and convenience, stacking chairs are very similar to folding chairs. This chair is designed to be stackable to save storage space. These lightweight chairs are perfect for social occasions as they come in a variety of shades and designs.
Unlike folding chairs, stacking chairs focus more on aesthetics. Some have ergonomic features such as flexible or curved backrests and slightly angled seat edges. They also sometimes come with narrow armrests.
Best for: Short-term seating, anywhere temporary seating is needed, events
Folding chair
Folding chairs shine for their convenience and portability. Folding chairs are often used for events or where temporary seating is required, and are lightweight and easy to install and store. The frame and seat are usually made of metal or plastic, but some folding chairs have upholstered seats to make them more comfortable.
This type of chair is available in a variety of colors and designs. However, since folding chairs are used as a convenient seating solution, they have few ergonomic features.
Best for: Short-term seating, events, anywhere you need extra seating
Choose the right office chair
As you can see, there are countless office chairs in our time. Which one to choose really depends on the environment, how long you'll be sitting in it, and your budget. If you want to know more or want to buy a training chair, please
contact us
.
DINGYOU Office Furniture
is a professional
custom training tables and chairs manufacturer
with 18 years of experience. Every year, we insist on participating in industry exhibitions in offices and schools, and products focusing on one field are recognized and supported by more customers. We sincerely look forward to your consultation, we are willing to be a member of your solution to your needs and achieve a win-win cooperation!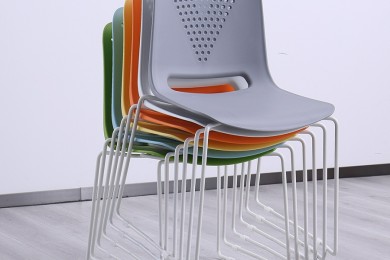 A multifunctional node chair that adapts to a variety of scenarios, with a variety of colors and configurations to choose from!
This chair has a high-density foam cushion, which makes you sit comfortably and meeting easier.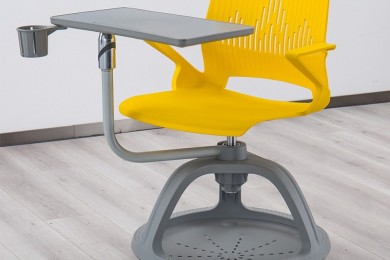 A multifunctional node chair that adapts to a variety of scenarios, with a variety of colors and configurations to choose from!