A Simple Guide to Choosing the Perfect Foldable Training Desk and Chair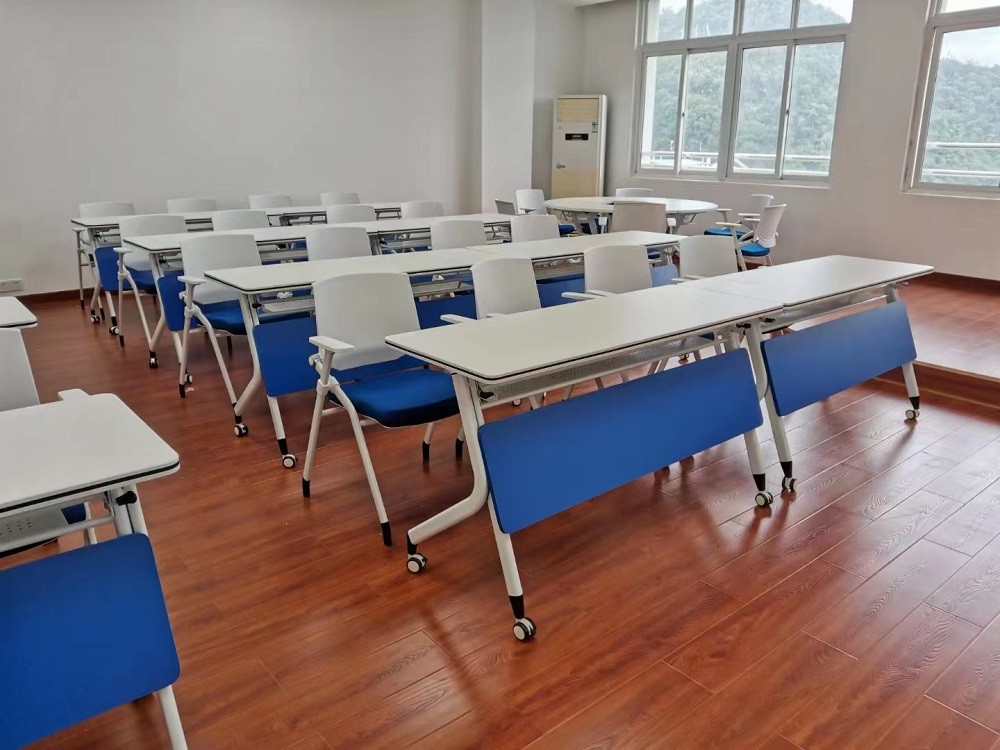 Choosing the most comfortable and suitable foldable
training table
and
chair can be a daunting task because there are so many options. There is foldable training furniture for different purposes, made of different materials. So how do you know which desk chair is the best for you? Our guide will make it easier for you to choose.
Folding chair
Foldable
training chairs
are useful in situations where you need to constantly reconfigure the seating layout of a general activity room for training or other purposes. By being foldable, they can be kept away and stacked in a small space when not in use, freeing up room where it's needed. They are lightweight and easy to carry, easy to move and set up.
Common types of folding chairs
There are 3 common types of folding chairs.
Plastic chairs are lightweight, easy to handle, and easy to clean. They are also weatherproof and won't rust and peeling paint. They are also one of the cheapest chairs. However, they have the shortest lifespan, the least durability, and are susceptible to damage.
Resin chairs look like wood but are easier to maintain than real wood chairs. They are scratch resistant and very durable but are heavy. However, this makes them ideal for outdoor use.
Metal chairs are the strongest and most durable of the foldable chairs and are able to withstand heavier loads. Metal chairs also generally look the most professional. However, a metal folding chair with a poor finish can damage your floors and is often prone to rust, peeling paint, and corrosion. They are also usually the heaviest type of chair.
Folding table
If you use a folding chair for training, then, of course, you need a folding table too. Desks are useful in training environments as they also need to be used to store course materials, notes, refreshments, and bags. Folding tables can also fit into a tight space and can be stacked to free up space when not needed.
Types of folding tables
There are many types of folding tables.
Use a rectangular table when a long row of tables is required, or when you want all participants to face forward.
Round, oval, and square tables are more commonly used when group work will be part of training, or to enhance ease of movement around the room.
Tables also come in plastic, resin, and metal, each with its pros and cons.
What to consider when choosing a folding desk and chair?
Price
This is of course the primary question. You will have budget and seating requirements, and you must find a table and chair combination that fits your budget and still provides the necessary number of seats. What you choose will be limited by your budget.
Materials and durability
When choosing folding tables and chairs, be sure to consider the materials from which they are made. Common materials include plastics, resins, and metals, and the material used affects its durability and longevity, as well as its price. For example, plastic tables and chairs have the shortest lifespan but also the lowest price, while metal furniture is indeed strong, but also expensive.
Purpose
To know what materials to choose from, you first have to know what your folding table and chair will be used for - especially where. For example, if you plan to use them outdoors, you need to choose materials that can withstand the weather without decomposing or corroding.
Size, weight, and ease of setup
The size and weight of the foldable tables and chairs you get are also important, as the heavier, or larger, they are, the harder they are to move. If you're buying furniture in a semi-permanent setting, then you can opt for heavier, more durable materials such as metal.
However, if you are moving a lot of furniture at a time, or if the room is used for multiple uses and configurations, it may make more sense to invest in lighter materials, both to speed up your installation and to save space.
Comfort and image
An important factor to consider, especially when you are conducting a training session, is what image you want to portray. Certain designs and materials of foldable tables and chairs convey competency and style that can affect your training success and your ability to acquire new students. For example, you may want to avoid cheaper or less comfortable materials, as this may cause trainees to learn less due to seat discomfort or doubts about the quality of the training. If your student's comfort is your primary concern, you may also want to choose a more comfortable design that provides more back and neck support.
Easy to clean/maintain
No one likes to sit on a dusty, dirty, or rusted chair. If you're hosting an event or training, one of the things you need to do is maintain and clean your foldable furniture constantly. How easy it is to clean them in batches becomes critical. You may want to avoid chairs designed with nooks and crannies that are difficult to clean.
Warranty period
When choosing furniture, an important factor is the warranty period that the seller provides for the product. Depending on the usage and durability of the folding table or chair you purchase, you may want to opt for a longer warranty for added security and peace of mind.
The above briefly introduce what needs to be paid attention to when choosing the perfect foldable training table and chair. If you want to customize the training table and chair, please
contact us
.
Dingyou Office Furniture
is a professional
custom training tables and chairs manufacturer
with 18 years of experience. It mainly produces training desks and chairs, smart classroom splicing desks and chairs, and can be used in schools, governments, enterprises, training institutions, and other scenarios. Every year, we insist on participating in office and school industry exhibitions, focusing on one product field and gaining more customer recognition and support. We sincerely look forward to your consultation, we are willing to be a member of your solution to your needs and achieve the win-win cooperation!