How to Maintain Office Stacked Chairs?
Most chairs are designed to provide a long, trouble-free operating life with minimal maintenance. However, that doesn't mean they shouldn't be checked. Simple regular inspections and maintenance are still required to protect those sitting on it.
So how often do you need to perform maintenance on stacking chairs? We recommend maintenance at least every 3 months, or every 1 month under very heavy use. This is to ensure that your stackable office chairs are not damaged or cause harm to your guests. While these products are built to last, unfortunately, there is always the chance that something will go wrong with the chair.
How should I clean my stacking chair?
Sanitation is a major issue in every corner of the globe, and no one wants to sit in a dirty seat. To help keep your chair in good condition, follow this simple cleaning regime:
Clean the frame:
Chair frames should be cleaned with a damp cloth and, if necessary, a mild soapy cleaner such as dish soap.
Avoid using abrasive brushes as this may damage the frame finish.
Smudges and fingerprints can be removed with a dry soft cloth; microfiber cloths are especially effective for this.
The old look can be improved by using a proprietary metal polish suitable for the material of the chair.
Cleaning fabrics:
Before cleaning fabrics, be sure to vacuum the surface to remove any debris, lint, or debris.
Fabrics can be cleaned with any commercially available fabric cleaner. However, always test on a hidden area of the fabric first to check color fastness.
It probably goes without saying not to use bleach or any other aggressive/solvent-based cleaners as it may cause permanent damage to finishes and upholstery.
Certain fabrics may allow more stringent cleaning methods, but we recommend always contacting the manufacturer if a more stringent method is required.
Did you know there are two types of stacking chairs?
When you think of stacking chairs, few people realize that there are actually two types. They fall into two categories. "Frame stacking", the chair stacks the legs on the legs, and "seat stacking" stacks the chair on the seat, the correct stacking method can also prolong the service life of the chair, please see the difference between the two stacking methods below.
Frame stacking chairs feature plastic stacking bumpers mounted on the inside of the legs. Prevents metal friction from damaging the frame.
Benefits of frame stacking:
Frame stacking chairs have special features built into the frame that not only provide secure stacking but also add protection to the fabric of each chair.
Design features in the frame, such as stacking bumpers - those little buttons you might see on chair legs - the only contact between each stacked chair is the frame itself.
Frame stacking is great when you choose a soft pile or delicate upholstery like velvet.
Benefits of seat stacking:
The biggest advantage of the seat stack is its clean, stylish look.
This is a good option if you don't like stacking buffers.
The seat cushion of the seat stacking chair also extends to the edge of the seat, minimizing the visible frame.
With a seat stacking chair, you simply stack the chair directly on the seat of the chair below.
Seat stacking chairs are designed in such a way that the stacking remains stable at all times.
The above briefly introduces the maintenance and stacking methods of office stacking chairs. If you want to buy office chairs for your company, please
contact us
.
DINGYOU Office Furniture
is a professional
custom office furniture manufacturer
. It mainly produces training desks and chairs, intelligent classroom splicing desks and chairs, and can be used in schools, governments, enterprises, training institutions, and other scenarios. Every year, we insist on participating in office and school industry exhibitions, focusing on one product field and gaining more recognition and support from customers. We sincerely look forward to your consultation, we are willing to be a member of your solution to your needs and achieve the win-win cooperation!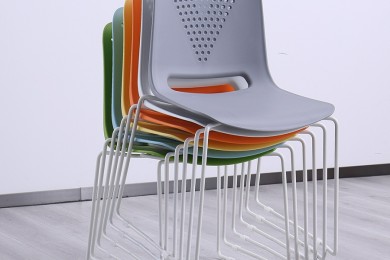 This stackable and easy-to-clean plastic chair is ideal for meeting rooms, lounges, waiting rooms, training rooms, and more.
The chair is available in four colors, the seat cushion can be customized to your liking, and it is stackable to save space.