4 Key Points to Consider when Choosing an Office Chair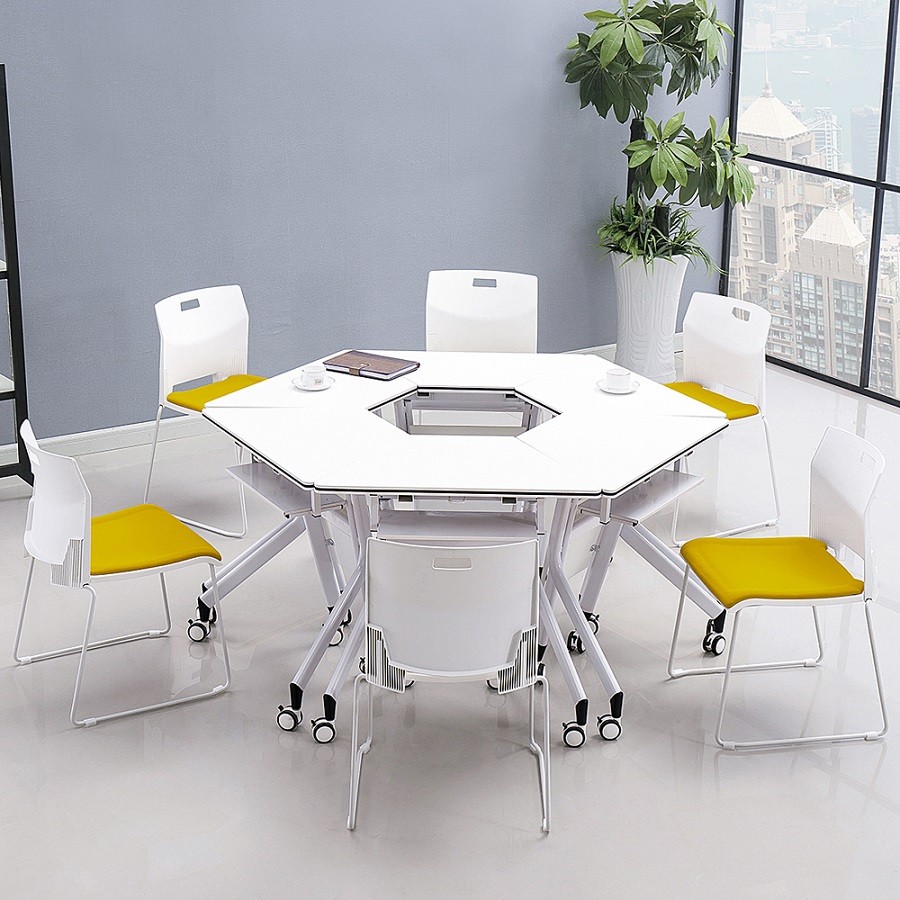 A chair is an indispensable thing in daily life and work. The design of different chairs can reflect different functions and should be suitable for different occasions. In the office area, there are not only executive chairs and manager chairs, but also training chairs.
A narrow office chair refers to a back chair that people sit in a sitting position when working on a desktop. The broad definition refers to all chairs used in offices and training rooms, also including conference chairs, press chairs, dictation chairs, and training chairs.
1. By material
From the material composition, it can be divided into fabric office chairs, mesh office chairs, plastic office chairs, wooden office chairs, and leather office chairs. Now, plastic office chairs are widely used.
2. By function
In terms of function, it can be divided into multi-person office chairs, single office chairs, multi-functional office chairs, folding training chairs, rotating office chairs, etc.
3. According to the occasion of use
From the perspective of use, it is mainly used in various places such as conference rooms, reading rooms, libraries, training classrooms, laboratories, and staff training.
4. By type
Office chairs include four-legged, bow-shaped, and row-shaped office chairs.
Second, the office chair consumption instructions
1. Consumer groups
The main consumer groups of office chairs are school training (language training, painting and calligraphy training, vocational training, etc.), corporate training, hospital training, hotel training, and home use.
2. Process description
The welding of iron castings adopts carbon dioxide shielded welding and pot arc welding. The surface of the steel pipe is cured at high temperature through degreasing, rust removal, phosphating, electrostatic spraying, and other processes. The quality is sturdy and durable.
Three, office chair purchase skills
1. Pay attention to welding
If it is a folding chair with a steel frame structure, you should pay attention to whether the welding is smooth, there is no gap, and the surface coating is uniform and soft.
2. Pay attention to the firmness
You can shake it back and forth with both hands to test the quality of the overall frame.
3. Pay attention to the quality of the foreskin
If you buy a leather chair, you can pinch a place with your fingers and pull it up. The quality is good, the recovery is good, and the hand feels good.
4. You can try to sit by yourself to feel how comfortable it is, try to sit at every angle.
Four, what are the placement skills of office chairs?
1 Team type (team competition type):
This is the most common way of placing tables and chairs in small-scale training. It is suitable for small groups of trainees and group competitions. Placement requirements: The total number of people is preferably 20 to 36 people, preferably divided into 4 to 6 groups. The number of students in each group is 5-6.
2. Fan type (semi-circular type)
This is a fairly common table and chair placement in mid-scale training. It is more suitable for occasions where there are many people, the training room is small, group study is required, and there is close communication between teachers and students. Class requirements: The total number of students is 40-70, preferably divided into 8-10 groups. The number of students in each group should be 5 to 7 people.
3. Horseshoe type (fish tank type)
In small and medium-sized training, there are certain requirements for communication between teachers and students, but there are no requirements for communication between students. Suitable for tables and chairs arranged in a horseshoe shape. Placement requirements: The total number of students is less than 80, generally one person per seat, with no grouping.
The above describes in detail how to choose an office chair. If you need to buy a professional training chair, please
contact us
.
Dingyou Office Furniture
is a professional
training tables and chairs manufacturer
. It mainly produces training tables and chairs, smart classroom splicing table and chair products, which can be used in schools, governments, enterprises, training institutions, and other scenarios. Every year, we insist on participating in industry exhibitions in offices and schools to gain more customer recognition and support for products that focus on a certain field. We sincerely look forward to your consultation.