Here's How to Design Your Smart Meeting Room for More Effective and Creative Meetings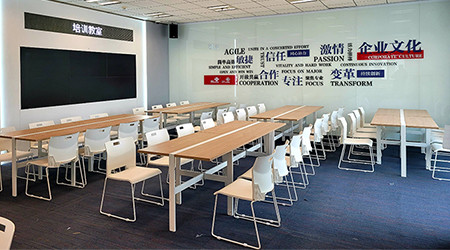 You know how it goes. On Monday morning, the accounting department had taken up the company meeting room. After lunch, the creative department needs it for great ideas and mockups. There will be a board meeting in the evening - there are already job interviews on Tuesday morning. The conference room is just that. They are constantly hosting different events with different goals - this creates challenges and it is difficult to design the rooms so that they always meet the different goals. This is where you need to bring intelligent design into your solution.
How to intelligently design meeting rooms?
It's about creating interaction between color, form, interior, and function, so focus on the goals of the individual meeting, as on the table, chairs and equipment. Entering the meeting room should feel pleasant. Here, color matters - even if you want to choose a fresh and bold color for your walls, Ferrari red can be a distraction from a serious meeting. On the other hand, light beige and nameless yellow can suck the life out of a group of creative designers. So our task is to find a delicate balance between the Big Bang effect and something quieter and calmer. With any luck, here's a place to benefit from the interior features of the room: cabinets, tables, floors, light fixtures, etc - if you can swap features and move around.
This is how you get an overview of your likelihood
How do you discover what tools are needed to equip a smart meeting room?
Start by defining the different meeting-related needs of various departments and individuals in the company. Chat about the different types of meetings a lot of people attend, how long the meeting lasts, what's going on, etc. You can then divide your needs based on the type of meeting - and set up the meeting rooms your company offers based on the number of people.
If you have multiple meeting rooms, it is best to separate them and design them according to function and purpose. Again, the requirements need to be outlined. Office space utilization analysis software will give you an overview of early activity, providing insight into how individual meeting rooms have been booked and worked in the past - what worked well and what failed completely.
Now the next step is to incorporate tables, chairs, lamps, and other interior features into your solution.
Outline the types of meetings you hold - then you'll know what features you need
If you have multiple meeting rooms in your company, it's a good idea to separate them according to the purpose of the different meetings - otherwise, your meeting room could become a productivity killer. If you have the opportunity to design one room focused on development and creativity, another focused on discussion and collaboration, and another focused on client meetings, presentations, and negotiations, then obviously they should be The designs are different, although it is possible to swap internal features depending on the purpose of the individual session. After all, 3 different meetings are not guaranteed to happen at the same time - in a company, there are often multiple simultaneous customer meetings, presentations, development discussions, etc.
This is how you choose furniture and other features for your smart conference room
When you choose furniture and other features, there are many factors to consider. Should you have furniture that can be used for as many events as possible - serious or informal - or should it be matched to a specific purpose, such as a board meeting? Does the interior need to be able to change depending on the purpose of the meeting, are the desks expandable, which chairs are best for work and relaxation, how to store furniture - and where? How does the design of furniture affect individual meeting participants and their behavior?
Individual types of furniture and interior characteristics – and their impact on users
Folding tables,
conference tables
, stacking chairs, chairs with armrests, soft and calm colors, wild and challenging colors, pictures on the walls, signs of communication, soft rugs, polished wood floors, light fixtures, and more, these All help to set the agenda for the meeting. Therefore, when designing, it is best to consider the purpose of holding meetings in various rooms, and you can use meeting room analysis to design your workplace to optimize productivity.
Conference room or modern workplace?
Roundtables in the conference room will encourage discussion. Roundtables set the stage for a good and inspiring discussion, perhaps a creative meeting to start a larger project, perhaps an internal presentation of a project before a meeting with a client - roundtables enable people to inform, share knowledge, make plans, and enjoy the same status. At the same time, depending on the type and design, the round table can be mixed with the square unit, thus transforming into a large and long table with space for more participants.
Conference chairs and serious negotiations
In a very large conference room, there is a rectangular conference table and chairs, such as conference chairs with armrests, to invite participants for longer discussions and more serious negotiations. In this way, you can signal to participants that they can safely lean back in preparation for a more serious meeting.
Color also needs
Some might say cheerful colors, others calm colors. Again, it is most important to consider the function of the room and the purpose of the meeting in context. Big bangs with strong colors can be both energy-generating and distracting. Here, one can imagine colors and patterns working like sounds. Therefore, one should opt for more neutral tones, which also provide a better backdrop for displaying artwork. Artwork can be moved, pictures can be exchanged, and sculptures can be removed. In this way, one can create a better flow in the meeting room—one that helps support exactly the purpose of the meeting.
The above briefly introduces how to design your smart conference room for more effective and creative meetings. If you want to buy smart conference room furniture, please
contact us
.
Dingyou Office Furniture is a professional
custom training desks and chairs manufacturer
. It mainly produces training desks and chairs, and smart classroom splicing desks and chairs, which can be used in schools, governments, enterprises, training institutions, and other scenarios. Every year, we insist on participating in office and school industry exhibitions, focusing on one product field and gaining more customer recognition and support. We sincerely look forward to your consultation, and we are willing to be one of your members to solve your needs and achieve a win-win cooperation!